If you're beginning to plan your big day, you and your fiancé are likely learning that it takes more to plan a wedding than just choosing the right dress, rings, and cake. The small details make your day perfect, and one of the most overshadowed details is the uplighting at your wedding venue.
With so many other items on your wedding planning checklist, you may wonder if uplighting is necessary. We get it — wedding expenses add up quickly. However, lighting is not something you want to skimp out on, and here's why.
Uplighting can completely transform your wedding venue and is highly customizable to complement your wedding decor. Not only does it help to set the overall mood, but it also draws attention to details in your venue that you want to highlight while distracting away from others that aren't so picturesque.
So, should you invest in wedding uplighting? Here's everything you need to know about bringing radiance to your wedding venue.
What is Wedding Uplighting?
Brides sum it up the best: uplighting is the placement of individual light sources at the base of architectural details or points of interest, typically around the perimeter of a space, to draw attention to those details. Have you ever scrolled through wedding reception photos and fallen in love with the romantic lighting that tied the decorations to the venue so effortlessly? Wedding uplighting is one of the main methods to achieve this look.
Uplighting can add color, create a more intimate effect, add depth, and change the room's atmosphere.
If your wedding venue is in a historical building with beautiful architectural features, such as columns, uplighting does wonders for highlighting these structures. You'll thank uplighting once you see your wedding photos. Any area that isn't already lit by standard lighting can be enhanced by uplighting to create your ideal setting.
Some additional benefits of using uplighting are:
They're wireless. You won't have to worry about potential hazards of you or your guests tripping over wires.
They're customizable. Your lighting specialist can adjust the mood throughout the night to whichever color or lighting tone you prefer. For a fun effect, your lights can be synced with the music, which can help get any party started!
Placeable everywhere. Since uplighting is wireless, you won't need to draw power from your venue, which allows you to add lighting to any part of the room.
Why is Uplighting Important?
Winter weddings are fast approaching, and although Austinites don't typically experience snow during the winter, the weather drops into the 40s at night, so your wedding will likely move indoors.
The quality of your wedding photos is another factor to take into consideration. You'll only have one chance to capture your wedding day, and any photographer will tell you that effective lighting is key to a great picture.
When you look back at these photos, you'll want them to have the same effect on you as those wedding inspiration photos did.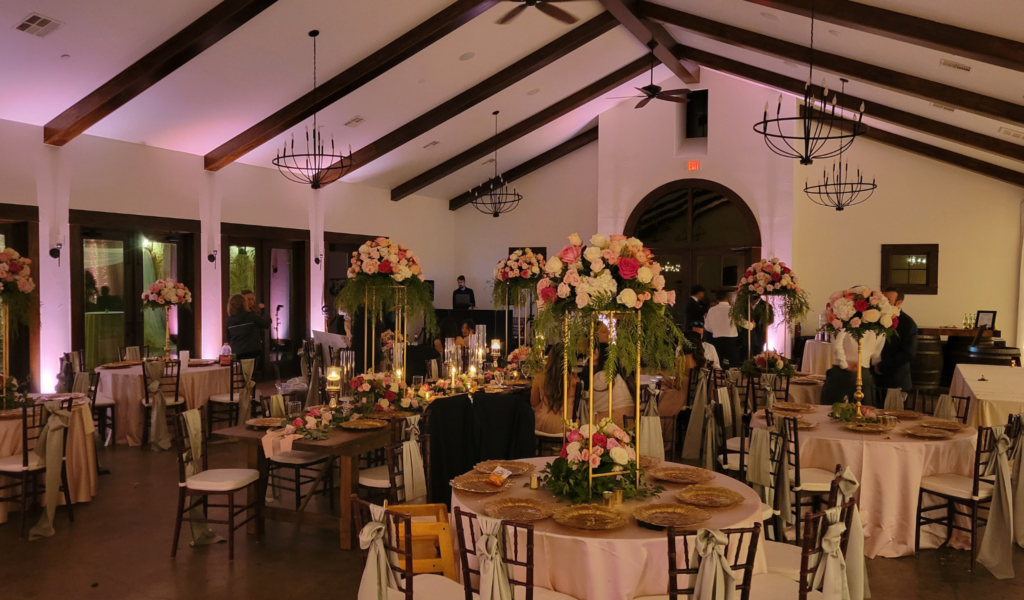 Choosing Your Professional Wedding Uplighting for Your Austin Wedding
We recommend hiring a professional to take care of the uplighting. A lighting specialist can help by:
Providing all the equipment, so you don't need to purchase expensive lighting
Setting up the uplighting in ideal locations
Troubleshooting any technical difficulties during the wedding
Changing the color of the lighting throughout the night without dealing with the clean-up
At Altared Wedding & Events, we have worked with happy couples since 2010 to help create custom-designed wedding elements for memories that last a lifetime. We understand that every detail matters, so we take the time to listen to your needs and strive to provide the best lighting options. Contact us today, and let us tick one item off your checklist.