Celebration of Life Celebrate the life of a loved one by using AWE's dependable and
professional Audio/Visual equipment.
Our projector and screen or TVs are perfect for showcasing photos and images, and our PA system will
play special music and microphones to narrate the service.
A technician will stay onsite to support and guide usage of all the equipment.
An Atmosphere of Entertainment
Entertainment isn't one thing. It's the combination of sound, light, and other sensory stimulations you experience throughout an event. Entertainment is celebrating, letting go of inhibitions, and forming memories. Below are simply some of the elements that create an environment of entertainment. Celebration of Life Services
DJ/Entertainment
Service

Karaoke

Photo Booth Fun
Acoustic Musicians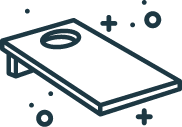 Yard Games

Audio/Video

MC Services

Dance Instructors