Event Lighting Lighting Sets the Mood
Lighting is the easiest, most effective method for setting the tone of your event. Transform a simple room into something that makes jaws drop. The perfect lighting can convert a traditional "first dance" into something astonishing!

Uplighting

"The Show"
Dance Lighting

Chandeliers and
Pendant Lighting

Cake Lights, Pin Spots, and Wash Lights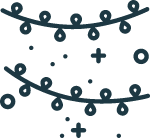 String Lighting, Café/Festoon Lights, Twinkle Lights, Fairy Lights
Industrial Edison
Frames and Drop Lights

Gobos (Your Name
in Light)
Wine Barrels and
Accessories

Add Some AWE with Wireless Chandeliers and Pendant Lights
Chandeliers can be hung in trees, venues, tents, or wherever you choose. These lighting elements will bring a level of elegance or charm to any area.

Uplighting
Paint your event in a beautiful light. Uplighting can transform your space and create dramatic effects during your event. This allows you to change the mood and atmosphere according to your plans or schedule of events.
Wireless
Several lighting elements are wireless, and battery operated, so no need to worry about drawing power from your venue. Bring lights into areas that you did not think could be lit.
Customized
Uplights can be programmed for any color. Our technicians can adjust the colors as the evening goes on to slowly fade from one mood into another. They can also be programmed in sync with your music. Other lighting elements such as fairy lights or firework pendant lights can also strobe or fade to increase effect.
Everywhere
Use uplighting or several other wireless, battery-operated elements inside and outside. Uplights will create brilliant, moody colors throughout your event can make a stunning impression on your guests.

"The Show" Specialty Dance Lighting
This lighting package is for the bold and extravagant! "The Show" is a lighting show that will turn your dance floor into a CLUB atmosphere! Our skilled lighting operators control the lighting based on the music and feel of the room.
Customized for groups of 50-1000. Each setup is unique depending on the venue and can include trussing, moving lights, disco balls, and more.
"The Show" for Bands
Have a band coming to your event? Light them up like they're the Rolling Stones. Band lighting can be
adapted to any size stage and includes lighting for the band and your audience.

Chandeliers and Pendant Lighting
The Classic – 6-Bulb Chandelier
Crystal and chrome and white, oh my! These classic fixtures are so versatile you can use them just about anywhere.
12-Bulb Crystal Chandelier
Our larger version of the Classic. These two-tier beauties feature 12 bulbs.
18-Bulb Crystal Chandelier
Our solid crystal glass chandelier is made of a smoky champagne glass. It requires a strong installation point. This classy chandelier could be the focal point of any room.
Simply Rustic – 9-Bulb Chandelier
Great for adding elegance to rustic spaces. These have a dark iron finish.
Edison Bulb Chandelier
Bring in the industrial vibe. 6 bulbs hanging naked or with cages creates an urban-chic modern look.
Moravian Stars
Stylish and unique. These boho geometric designs add intrigue to any space.
Paper Lanterns
White round lanterns, in a variety of sizes, add a festive and fun mood wherever they're hung. Illuminate the lantern or create a simple, whimsical display.
Globes with Internal Lights
These transparent globes are suspended with fairy lights or tea light candles.
Disco Balls
Add a throwback flair with our disco balls. You can spotlight and these include spinning motors to make your dance floor luminous. We offer sizes from 8", 10", 12", 16", 20", and 32" inches.
Cluster Drops & Starburst Pendants, Firefly Drops, or Standard Twinkle Light Drops
Starburst pendants mimic a suspended fireworks display to wow your crowd. Firefly drops are wispy strands of fairy lights (8ft long) that create a magical effect. Twinkle light clusters are suspended pillars of twinkle lights (5ft long). We adore these used together to create a dazzling lighting effect.
Fairy Light Curtain
Create an accent wall with our fairy light curtain. This 9ft tall curtain of fairy lights is perfect for behind the head table, the DJ booth or band, or any area you'd like to showcase.

Cake Lights, Pin Spots, and Wash Lights
Pin Spotting is a subtle yet incredibly dramatic style of lighting. Highlighting each centerpiece at your event will not only feature your centerpiece, but also provide romantic dining light.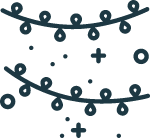 String Lighting, Café/Festoon Lights, Twinkle Lights, Fairy Lights
String festoon lights (aka café light) in many ways to create a classic, elegant look for any space. We offer LED and incandescent bulbs. These are great for bringing in more ambient light to dim areas, both inside and outside. Our incandescent bulbs allow the opportunity to dim and create a romantic light for any space.
Steel Edison Frames and Vintage Edison Lights/Drops
Stylish and fun! Use steel Edison bulb frames and an assortment of vintage lights and Edison bulbs to create something one of a kind for your event.

Gobos – Your Name in Light
Custom gobos make a great marketing element to project on walls, buildings, floors or anywhere you choose. They can be monogrammed with initials or display corporate logos. These are made custom for each event.
Personalized Gobos
Add a personal touch to your event with custom-made gobos. We can translate your corporate logo or monogram to light. Need help designing? We have free tools that are easy to use. Great for weddings!
Breakout and Patterned Gobos
Choose from 1000s of patterns to find the perfect accent for your dance floor, walls, or ceilings.
Wine Barrel Décor
Our barrels have all been restored with a beautiful finish and add charm to any event.
Wine Barrel Lighting
Wine barrel lighting is a unique, beautiful way to add lighting to an area using natural wood poles. Our
barrels include a stripped cedar post and string lights. Always use Altared when considering your event lighting.
Table Bar
Our wine barrel bars include two barrels and a gorgeous wood top. Excellent for serving stations, cake tables, or displays.
Cocktail Tables
By adding a large round top and custom barrel feet, we can turn our wine barrels into standard-sized cocktail tables.
Plain Wine Barrels
Decorate wine barrels to your style or use them as rustic decor.
Do You Have Any Questions?