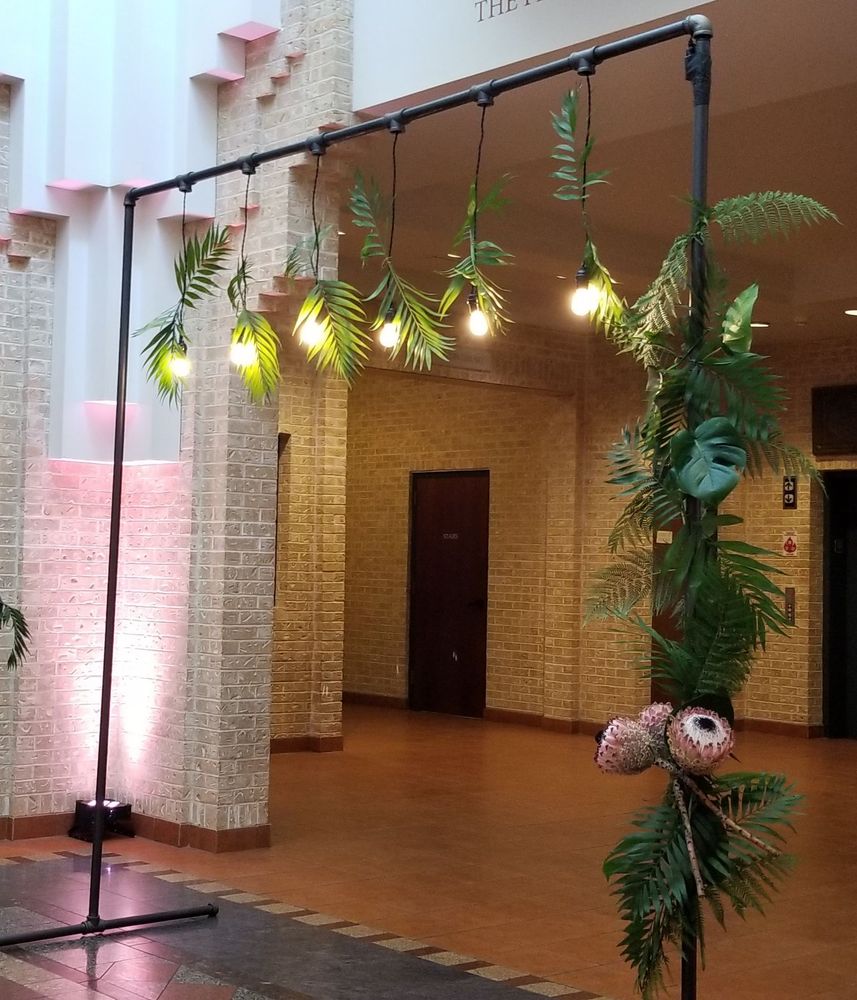 FAQ
Frequently Asked Questions about Altared Weddings & Events
Entertainment
A. Rentals include FOUR games. You may select which ones you want:
Cornhole (up to two sets)
Ladder Golf
Bocce Ball
Giant Jenga
Giant Connect Four
Giant Checkers
Giant Tic-Tac-Toe
Giant Yard Dice
A. Yes, with a credit card on file for security deposit, a signed damage waiver, and a contract. You may pick up the games the day before your event and return them to our north Austin warehouse one or two days afterwards.
A. There are two significant differences: the setup position and the size of printed photos.
The MirrorMe is a 4.5-foot-tall interactive mirror set against a wall or in a corner. Your guests will approach the mirror to take their photo. The room or environment behind the guests is the background, though the guest occupies most of the image.
The MirrorMe photos are 4×6 prints with up to three poses, either landscape or portrait orientation.
The Open-Air Social is an interactive stand-alone kiosk (boxy screen/camera/flash on a pedestal). It typically faces a fun background curtain or a themed wall. The Open-Air Social requires a designated area.
The Open-Air Social photos are 2×6 printed strips with 3 poses, filter choices of color, black & white, or sepia.
A. The FULL DURATION of your reception, up to FIVE hours. We know it feels tacky and awkward for a technician to barge through your reception to disassemble a photo booth–what an interruption! Many of the best photos are taken near the end of the reception when the mood is most festive, so enjoy the photo booth all night long. We will take down at the close of the event.
A. The choices we provide are: Black, Ivory, or Glittery Silver (most popular). You may provide your own curtain as well. We'll give you the required dimensions, so it looks fabulous.
A. The MirrorMe photo booth needs an area no less than 5 feet by 7 feet.
The Open-Air Social photo booth needs an area no less than 8 feet by 10 feet.
A. AWE has a multi-shot confetti cannon to send you off with a bang! We also offer a fog/haze machine for a 'cool' getaway look.
DJ
A. YES! DJs will have both lapel and handheld mics available. Let the DJ know which type of mic your officiant prefers.
A. Because the DJs are music industry professionals, they each subscribe to a service that allows them to download the most recent popular music. The DJ will compose their playlist based on your preferences and what you believe your guests will enjoy.
You are encouraged to assist the DJ through an interactive DJ questionnaire by giving them your "must have" and "do not play" selections and your requests for processional/recessional, first dance, and last dance. If you want to allow your guests to request songs, the DJ can arrange this as long as the venue has wi-fi.
A. The DJ will bring lights to add a party atmosphere to the dance floor. These are typically small, colorful, blinking lights, that sync to the music. Some lights have moving heads with patterns or lasers. These lights will be mounted on or near the DJ's booth. The DJ will bring dance floor lighting and provide their own professional façade/DJ booth and table (the booth will cover their table, equipment, and cords).
A. YES! DJ Ricardo Sandoval is bilingual in Spanish and English.
A. Absolutely! Begin a relationship with the DJ immediately upon booking. We encourage you to review the DJ profiles and let us know any particular DJ you'd like to book. If you would like a "meet and greet" conversation, each DJ is happy to call or video chat to discuss your expectations prior to booking.
A. YES! Altared Weddings & Events provides insurance coverage for all of our DJs. If your venue requests proof of coverage, please contact our office. An uninsured DJ presents a daunting situation–for you and us.
A. Although the equipment may look complicated, the truth is any standard household 120V outlet is sufficient. The DJ will bring their own power strip and extension cord–just point them towards the nearest outlet.
Lighting
A. YES! DJs will have bPin Spots shine a precise beam of white light; like a very bright, but small, spotlight. Pin Spots are primarily used to highlight centerpieces on tables. Florists love Pin Spots because the beautiful floral centerpieces can be seen in the darkest venue spaces! They are mounted near the ceiling and shine down onto tables.
The Wash Light is similar to a Pin Spot, except they shine a much larger, broader ray of white light. Predominantly, Wash Lights are used to showcase a large piece or illuminate a dimly lit area. It's common to mount Wash Lights near the ceiling to light a darkened corner of the venue or to showcase a display of photos or featured decoration.
A. Our large 12-bulb chandeliers weigh approximately 25 pounds, and the smaller 6-bulb chandeliers weigh approximately 12 pounds each. Four 12-bulb chandeliers and ten 6-bulb chandeliers are available.
A. The potential danger from strands of electric lights over water prohibits us from hanging any electric lights over water, however you could use battery-operated lanterns. Currently (March 2021) we do not own any lighting elements that float in water.
A. An uplight is a small, square device that emits light upwards. Typically placed on the ground along the perimeter of a room or at the base of vertical pillars in the room. They project wide beams of light that can be manipulated to any color. They are battery-operated, wireless, and controlled via DMX (a transmitter). Uplights can be turned off, on, or change colors from a remote location.
A. Uplights go on the ground and illuminate a broad surface, like a wall or curtain. They can shine in any color.
The cake table light is a set of two lights that are mounted so they will shine on your cake table without shadows. They only come in white. Cake designers love them!
A. A gobo can be made from any image or font. Simply save your designed image in .png, .jpg, or .pdf format and send it to us.
If you don't have access to a variety of fonts you may find design programs online to help. Check out: [https://us.rosco.com/en/custom-gobo-designer]. Feel free to take a photo of your wedding stationery or online examples. We can make suggestions for you, as well.
A. The Edison Frames are made to go over a standard farm table (8.5 feet), however we do have "double header" pieces so you can slide two tables together for a 17-foot span of lights.
What's next?
A. 25% of the balance is due as a non-refundable deposit upon signing your contract. The next 25% is due 60 days after booking. The final 50% is due 10 days before your event. If your event is less than 60 days in the future, 50% of the contract amount is due upon booking, with the remaining balance due 10 days before your event. We accept online debit/credit cards, or check.
A. Your electronic signature is required on a contract. Let your Altared rep know you are ready to book and need a contract. A link will then be emailed to you. A deposit is due upon booking.
A. Your contract allows you to two options if you need to move your date:
You may postpone once to a date within 6 months of the original date with a 10% reschedule fee (or a mutually agreed upon date further than 6 months away)
You may cancel and forfeit all prepaid monies
If the venue is closed due to a government mandate, then your postponed event is not subject to a reschedule fee. A mutually agreed upon rescheduled date within 16 months is allowed (providing services are available on your new date).