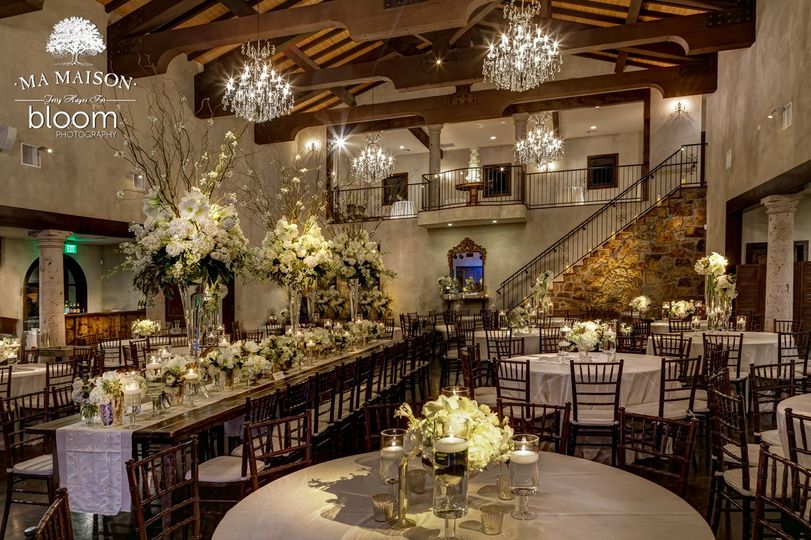 Event Décor Rentals and Set-Up
Trust our experienced technicians to deliver your event décor rentals.
White Wicker Palm Trees
Perfect for a beach or tropical theme. Six feet tall white wicker palm trees are ready to set the scene. Trees are available with and without twinkle lights.
White Wicker Arbor
Go boho with this beautiful multi-piece white wicker arbor. Pieces are mix-and-match, so you can customize your arbor however you want. Add florals or greenery to these pieces to complete the bohemian vibe.
Hexagon
The hexagon a fabulous statement piece because of its size and compatibility for more elements to be added onto it. Garnish it with chandeliers, Edison bulbs, greenery, twinkle lights, and more! The hexagon is 10 feet tall and very sturdy. Inform your florist so they can adorn it out with eye-catching elements.
Black Wrought Iron Arbor
The black wrought iron arbor is the perfect backdrop for your ceremony altar. It's ready to be decorated with greenery, twinkle lights, or a chandelier. The arbor is 8 feet tall.
Wooden Cross
What a beautiful piece for your ceremony altar! The wooden cross is 9 feet tall and comes complete with hooks for floral arrangements or additional elements.
Copper Tabletop Display Frames
Three copper tabletop display frames are available to set on your tables or the ground. Great for displaying photos, table assignments, donuts, pretzels, or other treats.
Rugs or Mats
Ground covers may be necessary or simply visually pleasing. Altared Weddings & Events has a small variety of rugs, runners, and rubber mats. Everything you'll need for those essential places as well as the pretty ones.
Geometric Cages and Edison Bulb Cages
Add industrial flair to your light bulbs by housing them in bold, black cages. The cages fit all standard Edison bulb sockets. Extra-large gold-colored geometric cages add intrigue to any hanging bulbs!
Geometric Prisms
These heavy duty, gold geometric prisms can be hung or placed on tabletops. The prisms are eight inches in length and give an extra touch of flair, especially when paired with twinkle lights or greenery!
Flat Crystal Panels
The flat crystal panels are perfect for bringing the bling to any display. They can be creatively used to reflect lights or add a sense of elegance. Each panel measures 8 by 12 inches.
Wine Barrels
Use the wine barrels by themselves, as cocktail tables, or as display tables. The wine barrels have a warm, honey finish for a rustic yet elegant theme. Each of the tabletops (round cocktail – 3-foot diameter, or rectangular table 2 by 6 feet) is finished in the same warm, glossy coating. They truly add a classy touch to a rustic vibe.
Edison Frames
The Edison frames are built of sturdy, black metal. Each frame is 8.5 feet tall. They fit perfectly over farm tables (8.5 feet wide) for guest dining, head table, buffet tables, or display tables. A double-top frame will give you an impressive span of 17 feet! The frames have six Edison bulbs hanging from the top. However, you may request a blank top (no hanging lights) if you have your own display items to hang. Because the metal frame is so sturdy, additional items can be hung with no worry. Extra florals/greenery, more lights, or even a small chandelier looks amazing!
Drapes
If your venue needs something extra, use drapes to soften the look or create a sense of elegance. The sheer white drapes (up-to-75-foot swags) look marvelous with or without twinkle lights. Simply hanging the drapes over ceiling beams creates a breathtaking look. Use white drapes to accent the ceremony site, as well. Hang them in trees or around a pergola for a simple, beautiful scene.
Suspended Floral Frame
Our frames come in multiple sizes – as small as 3ft x 6ft and as large as 10ft x 12ft. They are undeniably eye-catching! Used in conjunction with the florist, it is suspended with cascading florals, greenery, lights, and whatever you can imagine creating a statement (even disco balls!).
Hanging sockets for bulbs are also included (up to 10 vintage Edison bulbs, modern tubular bulbs, multi-sized, and multi-shaped bulbs). The frame includes many hooks, mesh wire, and a clean slate that florists love. This frame is available to venues that have an adequate ceiling framework.
Shepherd Hooks
Our black shepherd hooks are three feet tall. They are black metal and perfect for hanging elements or displays at the end of the aisle. They are also great for hanging low-to-the-ground lights, illuminating the way to the restrooms or the parking lot.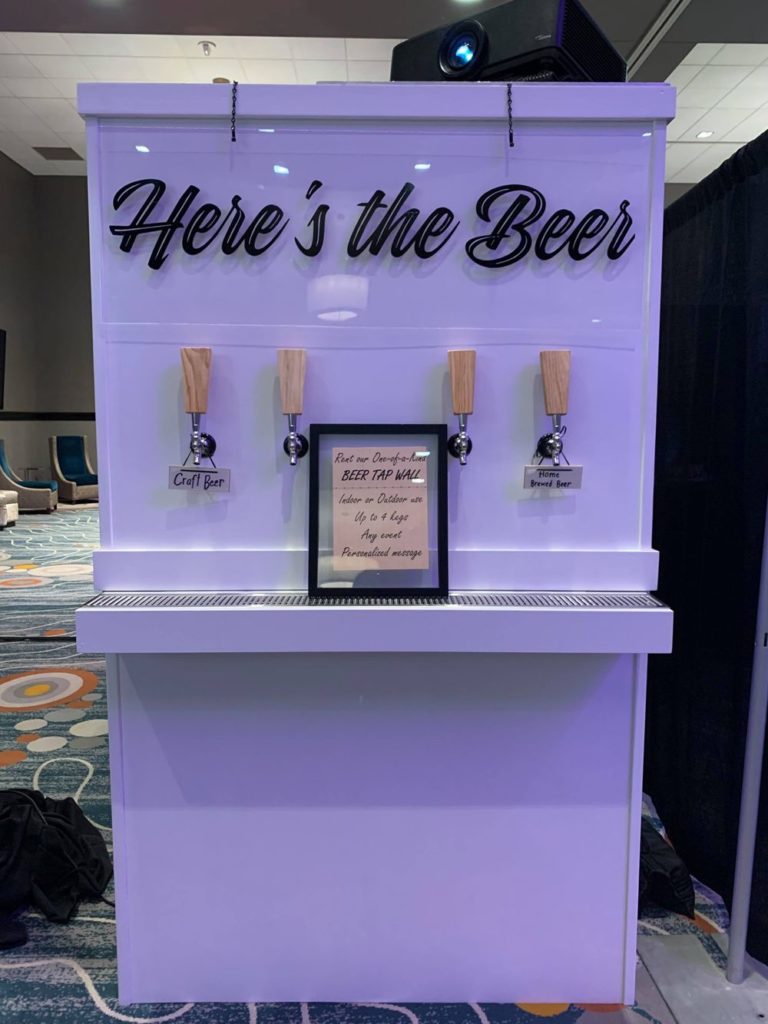 Beer Tap Wall
This custom tap wall is an elegant and durable façade for your kegs of craft or domestic beer. Set up indoors or outdoors. The beer tap wall is black and white with the option to customize the event name. This wall can tap four kegs, each with its own pull handle. The beer tap wall must be assembled onsite by AWE staff.
All equipment is provided (except ice and cups) however, an experienced professional is required to attach kegs to taps. AWE can provide this professional. Be sure your venue allows this sort of beverage dispenser.
Stanchions and Red Carpet
Two gold stanchions (each with red velvet ropes) and a 4-foot red carpet are available to add class to your event. Pretend you are a star and strut your stuff!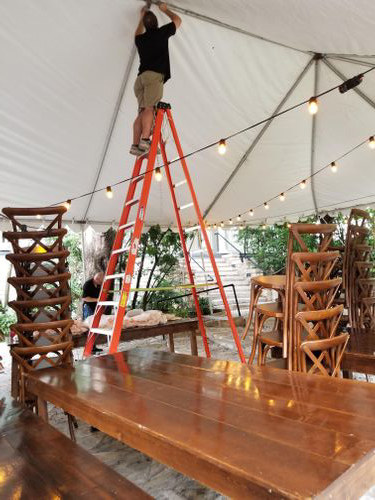 Pipe & Drape
Do you need to cover an area? Or require a particular background? We have the equipment to provide 110 feet of drape coverage. The poles are extendable between 9-14 feet tall. The drape colors in our inventory are black, ivory, or sheer white.
Fairy Light Curtain
The beautiful tiny lights in the fairy light curtain add a festive mood. Our curtains are 9.5 feet tall and can cover space up to 40 feet. The most popular sizes are 9.5 by 20 feet. Combine the fairy light wall with the sheer drapes for an elegant, classy look.
Hanging Globes and Fairy Lights
Looking for a budget-conscious touch of light? Consider the clear acrylic 4.5-inch globes with battery-operated fairy lights inside. The globes are lightweight and can be hung from almost anywhere. The battery-operated fairy lights are remote-controlled so you can turn them off and on from a distance.
Paper Lanterns
Paper lanterns are a beautiful, inexpensive option that adds a touch of lighting, fun and elegance to any event. Our round, white paper lanterns are available in 6, 9, or 12-inch sizes. We have battery-operated, remote-controlled lights for each lantern, or choose to hang them without lights. These are classic for a backyard party or get-together. AWE's crew will hang these from trees or provide poles with cables to string across your area. Many use these paper lanterns in conjunction with the string café lights for a fun atmosphere.
Truss
For an ultra-sturdy setup, use universal trusses. These can be put together to form a frame that will support heavy items, like cameras or moving-head lighting features, or used simply to create a framework that spans a considerable distance (20 feet or more). These shiny metal trusses can be rented to create a framework or by the piece. They are perfect for the professional look you see at concerts or on stage.
TVs
Display slideshows or entertaining visual music while your guests are mingling or congregating. Or throw a party to watch a sporting event or the season finale of your favorite show. We can install multiple TVs on trusses and link them together so your guests can enjoy a big-screen experience.
Galaxy Wall
Imagine twinkly lights shining across a wall or the ceiling of your event center. We can shine white laser pinpoint lights across a large flat surface area. Imagine bringing the night sky inside. The galaxy wall is breathtaking!
Chandelier Stands
If your heart is set on chandeliers but your venue lacks trees or ceiling rafters to hang them from, use chandelier stands. We have eight frames made to support six-bulb chandeliers. They are easy to transport and set up anywhere! The L-shaped frame will readily suspend a chandelier. The frames are 9 feet tall and project approximately 2.5 feet out. Each pole comes with black or white covers to match the décor in your space. Get the chandeliers you desire, wherever you want them!
Do You Have Any Questions?