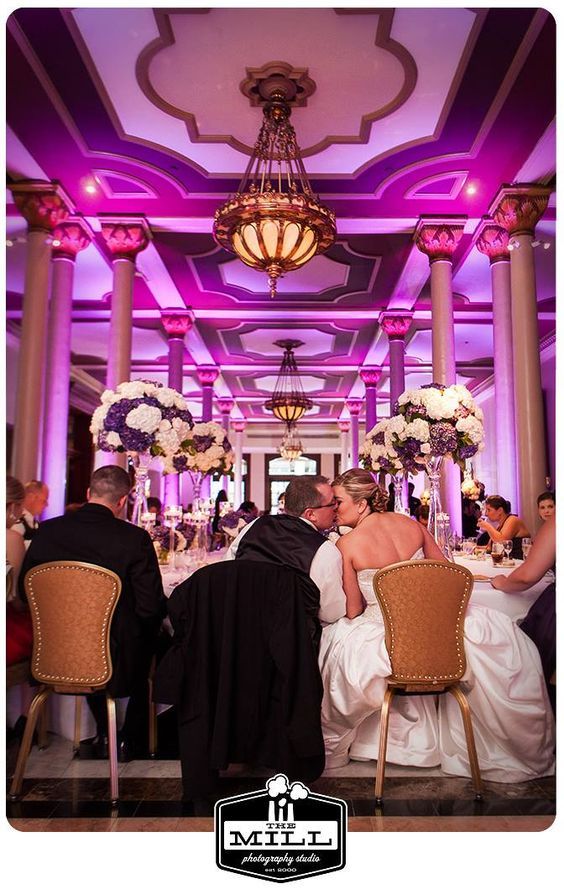 Austin is seeing a ton of new hotels cropping up in addition to some of our long-time favorites like the Stephen F. Austin Intercontinental and the Driskill! This is great because with all the festivals that we have on the calendar we need places for people to stay, and they make for convenient wedding locales as well. You can be in the center of town, there is plenty of parking, and your guests don't have far to go at the end of a long night. We love working in hotels, but they take some special considerations that you may want to think about.
Lighting is frequently offered in-house, and it's rarely to your financial benefit.
A number of hotels have nationwide contracts with lighting companies to supply their needs, and these companies can make it very difficult to bring in outside suppliers after the contract has been signed. They also can nickel and dime you over issues like power, even if we are bringing in battery operated lights. The other problem is that they are less inclined to invest in the latest equipment because they have a relatively secured cash flow. So, the convenience can sometimes be offset by the higher price and possibility for bulky equipment.
Read Our Blog: Should You Host a Rehearsal Dinner?
Loading in for vendors can sometimes be complicated depending on what part of town you are in.
If your vendors are seasoned pros, you probably don't need to worry about this too much. If you have anyone that you are bring in in from out of town or a friend that is providing your service, be sure to give them a head's up. Most hotels have a staff member either in their catering department or events department that can help you with this.
Read Our Blog: Altared Events Wins BIG at The Glammys!
Sound can become an issue.
As we stated before, many hotels have in-house companies that they partner with. This is also true with city venues. If you are bringing in a DJ, you want someone who is going to understand the hotels' limitations on having music playing potentially late into the evening. Your DJ's system needs to be appropriate for the space and the venue's specifications. Don't worry, your Altared DJs are very familiar with these policies.
Also, Austin has a bunch of smaller, trendier spaces now that are a nice alternative to the big brands. Check out Hotel Ella, South Congress Hotel, and the Hotel Van Zandt! These are great for people coming in from out of town who want to be in the center of the action! Happy planning!