When setting the scene for a memorable event, lighting makes more of a difference than you might think. From drawing the eye to a focal point (the wedding cake, the first dance, a speaker at a podium) to creating a sense of warmth and coziness, good lighting is essential. Luckily, we're on hand for Austin event lighting needs of every kind, from intimate garden weddings in Round Rock to grand corporate events in downtown Austin. Read on for a rundown of everything we offer at Altared Weddings & Events to make your event shine bright like a diamond.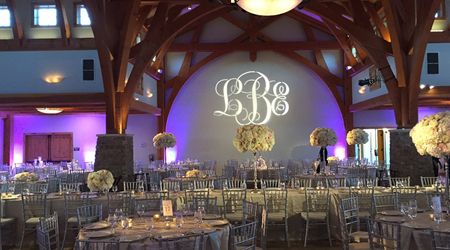 Uplighting
If you've ever walked into a space that felt almost magical, cast in a warm orange, red or pink glow or bathed in blue, green, or purple, chances are, you've entered a room with uplighting in it.
To uplight your event, we strategically place our wireless LED lights throughout the venue and illuminate it in the hue of your choice.
As the event goes on, we can transform the color to transition from dinner to dancing, or just mix things up for fun. We can even program it to sync up with your music, so you can get Tangled Up in Blue, dance in Fields of Gold or just let the colors pulse as you sway through the night.
Show Lighting
If your event features a live band, we can light them up like absolute rock stars, and we can set the dance floor on fire, too — well, not literally, of course. If you've got a DJ (whether it's one of ours or someone of your own), we offer everything from trussing and moving lights to disco balls. No matter the combination, we make sure it's festive and fun, turning any space into a party-ready wonderland.
Chandeliers & Pendants
Our quartet of chandelier and pendant options bring a sense of old-world elegance to the table. Our classic 5-bulb and larger 12-bulb crystal chandeliers are embellished with hanging jewels to heighten the drama, while our rustic chandeliers and Moravian stars take your imagination from the nearest farm to the far reaches of bohemia. Each has a dreamy, picture-perfect effect wherever you choose to feature it.
String Lights
String lighting can be used in a variety of ways, from a simple backyard-style sweep to a dramatic light wall acting as a dramatic backdrop. This popular option is great for ambient lighting, giving everything a sweet, familiar glow. Wrap it around some big tree branches or string it out from the center of a tent — it's versatile, hardy, and works well indoors or out.
Pin Spots & Cake Lights
Pin spots and cake lights are perfect for calling attention to your centerpieces, wedding cake, and any other focal point you wish to highlight. Guest books, gift tables, and other special items can benefit from a small spotlight of their own, making sure guests don't miss them as they walk by.
Industrial & Drop Lights
Edison lights have come back into vogue in a big way, thanks to their timeless appearance. Their superpower is their classic appeal: they can warm up the look of an industrial space or make a modern space look more industrial. Either way you use them, they're as much a decor element as they are a functional way to light a space. Hang them in a group above your cake table as an alternative to modern cake lighting, or let them add strong visual appeal over a rustic, farm-style buffet.
Gobos
Ever wanted to see your name (or your new monogram) in lights? This is your chance! We can customize your corporate logo or personal monogram into a spotlight that shines up on a wall or down from above, and we can set it in motion, too. Or, to lend some subtle special effects to your dance floor, choose from over 1,000 patterns and let us set them spinning. The sky is the limit, so let your imagination run free and we'll make sure to keep up.
Need us to give your next big event that certain something? Get in touch today and we'll customize a lighting package that's perfect for you.
Austin event lighting done right
Click through this gallery for a sampling of our gorgeous Austin lighting rental options.