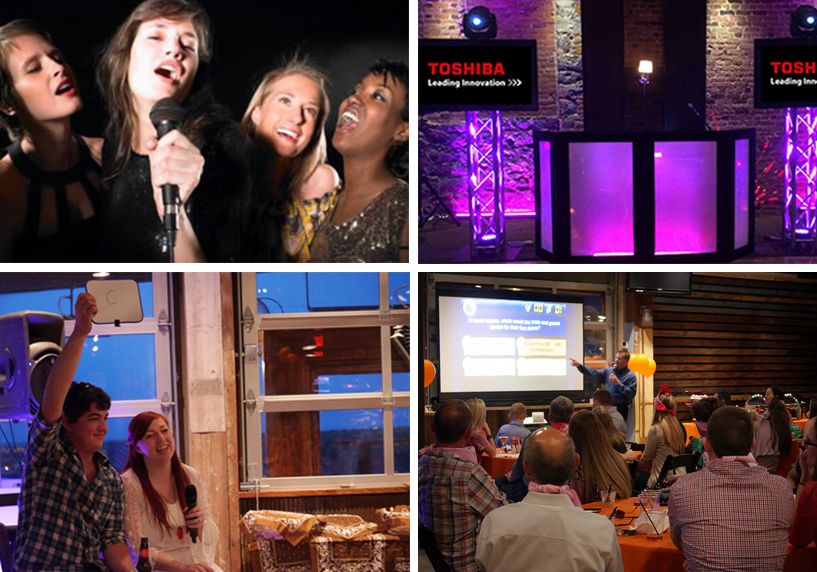 From birthday parties to team-building events, people attend special occasions hoping to enjoy themselves and connect with one another. For some, it's easy to strike up a conversation with strangers and acquaintances, while for others, breaking the ice is a tough thing to do.
When it comes to filling an entire afternoon or evening with activities that make the most of everyone's time, even the most advanced party planners could use a helping hand.
That's why we offer a wide variety of interactive event experiences to keep the energy up during a social or professional event. Whether you're looking for childhood games or truly inventive ways to get people to let their hair down, we have activities and tools to get the party going.
Austin Karaoke Rentals and Dance Instructors
Everybody's got an inner rock star, pop icon or diva just waiting to burst out into the spotlight. Our Austin-based karaoke service is perfect for parties, rehearsal dinners, and corporate events. It includes an experienced karaoke host, a projector and two screens displaying lyrics (one for the singer, one for the guests), updated song lists and songbooks, and two microphones with special effects, plus optional upgrades. A party isn't complete without great music, and you never know who's going to surprise the crowd with an incredible singing voice or impeccable sense of rhythm!
Speaking of rhythm, our clients rave about our group dance lessons. If you're ready to get into the groove, we'll send a professional dance instructor to teach your wedding party, special gathering or corporate group how to shake a tail feather. You can select salsa, swing, line dancing, or almost any other style of your choosing. Dance lessons are an excellent addition to any wedding rehearsal, helping to take the dance floor up a notch at the reception. Likewise, corporate groups enjoy the chance to have some fun and show off their moves, too.
Rehearsal Dinner Rivalry, Trivia Nights, and Corporate Game Shows
Good-natured, friendly competition can bring out the humor in almost any setting, and that's why we offer a series of interactive competitions for your next gathering. Our Rehearsal Dinner Rivalry gets guests up and moving, putting them head to head with trivia games, lip sync battles, games and more. For this special package, we provide the host, music, microphone, projector, screen, and game materials.
Our Trivia Night package can be set up nearly anywhere — a bar, backyard, or the comfort of your living room. It gives your guests an hour or so of interactive trivia fun, with eight rounds of trivia hosted by a total pro, with a projector, screen, and up to 20 remotes.
And for a corporate event no one will ever forget, our Team-building packages are unparalleled. Our trivia and game show options can be customized to fit your brand, and we can even tailor the questions to cover whatever specific material you request. Accommodating up to 100 guests, we provide the host, all necessary A/V needs, and custom questions upon request.
Ready to Get the Party Started?
We're happy to work with you and put together a package to suit your needs. Everybody loves to have fun, and we're here to help make it happen. Get in touch today and let's talk possibilities!