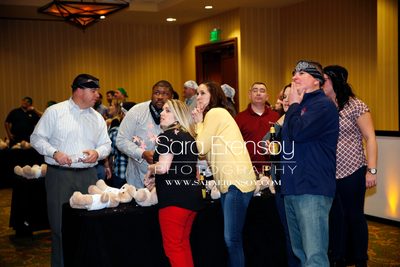 It is a truth universally acknowledged that everyone loves trivia. Okay, so maybe that's not exactly how that quote goes, but I am pretty sure it's subtext. If you got the reference though, then you should definitely keep reading!
So, when you are debating your next corporate team building activity or looking for something to keep people excited during a casual event, consider one of our trivia gameshows. Here is how it works.
Gauge the Size of Your Crowd and Go
Depending on the size of your crowd, you will split into groups of about four to eight people. We outfit you with color coded accessories so that each team is clearly marked, and we give you a buzzer. Designate a team captain, and we will get rolling. We have several rounds of themed questions that you answer as the clock rolls. It is fun, high energy, and interactive!
Think Outside the Box for Your Rehearsal Dinner
For couples who want something different for their rehearsal dinner, we bring in the Rehearsal Dinner Rivalry, which splits teams up and can incorporate any number of games depending on what you are up for! We have seen lip-synch offs, minute-to-win games, and karaoke. You get a lot of possibilities with this!
What is so fantastic about these games is that it is a casual way to get people really engaged in your event without necessary putting them on the spot. Your guests can be as rambunctious or reserved as they like but still participate.
Unlike restaurant-style trivia, we provide a host that guides and entertains everyone through the rounds. We can customize questions to reflect company values or training points, or we can include tidbits of the engaged couples who are hosting their bridal party.
It's incredibly fun and will leave your guests talking!