Erin and Chad partied all night at the gorgeous Rancho Mirando in Fischer, TX (just outside of Wimberley). This venue lends itself to great events with it's large open pavillion and funky, colorful artistic detail.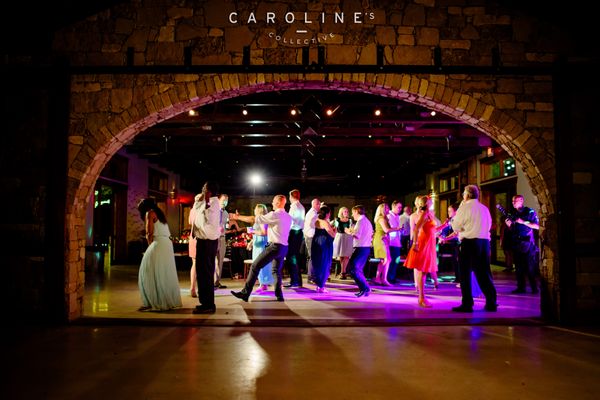 Our DJ, Christian, led the entertainment. Special dances were done to "Two" by Ryan Adams, "Somewhere Over the Rainbow" by Israel Kamakawiwo'ole and "In My Life" by The Beatles.
Their mix of music ranged from Texas Country favorites to Justin Timberlake and Black Eyed Peas. Of course their wedding wouldn't have been complete without the Texas Tech Fight song to finish off the night.
Christian's tips on great entertainment at Rancho Mirando:
"Rancho Mirando is an eclectic place and attracts families that want a relaxed, fun but classy event. Start your dinner music with funkier singer/songwriter tracks and move into more contemporary and upbeat foot-tappers. By the time we launch into dancing, the energy level will already be pretty high and your dance-floor will take an immediate surge."
All photographs courtesy of Caroline Studios
Dancing all night at Rancho Mirando!
Get Your AWE Moment
Altared Weddings & Events offers an array of wedding rental services curated to your venue and style. We have the best contractors in entertainment that allows you to have clear, precise sound and event lighting to match the beat. We always recommend adding patterned Gobos for an extra flair for the dance floor. Contact us today to discuss your options!