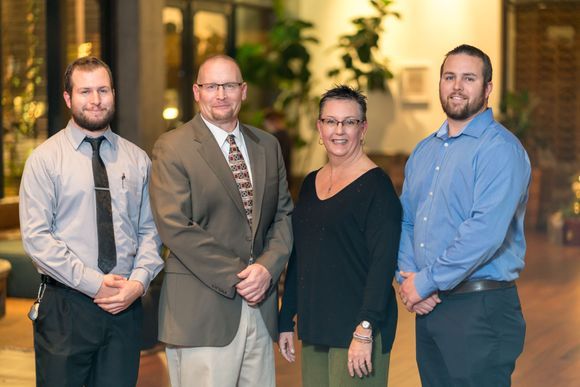 Altared Weddings & Events Team
To everything there is a season, and as summer gets into full swing, we've got some news to share! Having served the Austin community for many years, Altared Weddings & Events is now under new ownership!
The path to where we are today unfolded, as many unions do, with perfect serendipity. You may recognize two names of the new owners; Scott and Shelly Cole! They are the folks behind Short and Sweet Weddings, a dedicated local team of wedding officiants who have been honored to officiate countless weddings throughout the Austin/Round Rock area and surrounding Hill Country over the years. It made perfect sense for them to step into leadership roles at Altared, offering Central Texas couples the best of everything on their special day. Scott now serves as CEO, and Shelly's role is CFO. Between them are decades of experience helping couples celebrate the beauty of love in all its forms.
Along with Shelly and Scott arrive their sons, Dillon and Jared, who share ownership and help things run smoothly as we pave the way toward a new future for this beloved company. Both come to the team with strong backgrounds in sales, and with this dynamic duo on board, it's truly a family affair. And, of course, the bridge from yesterday to tomorrow (and beyond) comes to us in the form of Cristin Meehan, our ultra-talented General Manager, who has more than 15 years of wedding experience tucked under her very stylish belt. Cristin has been an integral member of the team since before our new management came on board, lending a sense of continuity (and many wedding seasons' worth of experience) to a talented and enthusiastic new management team.
"It's just an honor to be a part of such special moments in people's lives," Shelly says. "Having officiated over so many sweet couples' weddings all these years, we just want to give them the world and make their day as special as can be."
"Taking the reins at Altared gives us the opportunity to do just that and extend it beyond everyone's wildest dreams," agrees Scott. "Our family couldn't be more thrilled about the amazing experiences that lie ahead of us."
As always, our new management at Altared Weddings & Events remains committed to making your special day — be it your wedding, mitzvah, or quinceañera one to remember for all the right reasons. Offering the same exciting range of options (with more to come!) and exceptional quality of service, we look forward to making moments that you'll cherish.
To learn more about what we do and how we can be of service to you, click here. To connect with us today, call us at 512-255-6788 or send us an email at info@altaredevents.com and we'll be in touch soon!