Altared Weddings & Events Team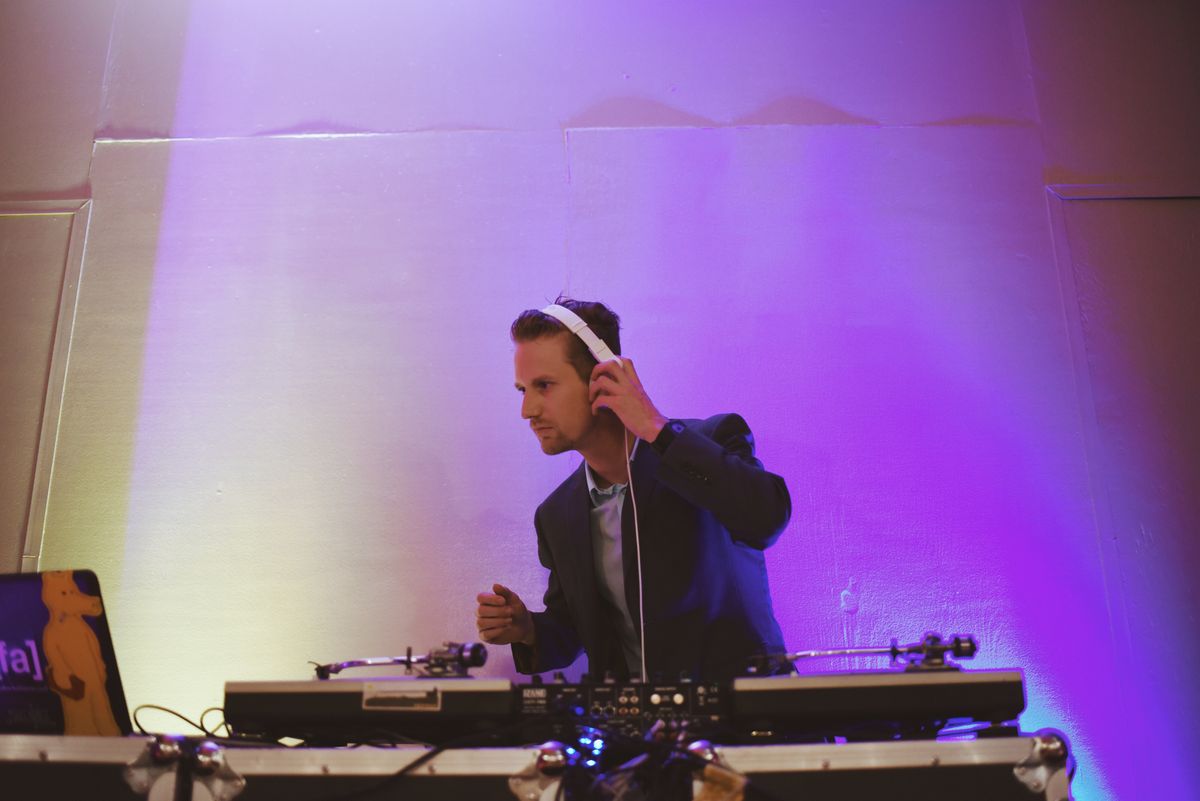 At Altared Weddings & Events, we only work with the best and brightest entertainment partners in the business, and Austin-based DJ Davin Lawrence is no exception. In fact, you could even say he was born to do what he does: get people on the dance floor and give them the time of their lives. Read on to learn about one of our fine collaborators who's always ready to help you bust a move.
It was a good day
When it comes to a musical maestro's pedigree, there's no better origin point than a real-deal disco DJ, and that's just what Davin's dad was back in the 1970s. In fact, that's how his parents met. "It's exactly like that Human League song," he laughs — his mom was working as a waitress in a cocktail bar when she met a man on the ones and twos who stole her heart.
Davin grew up listening to his dad's favorite records, and it was his father who got him into the fastest-growing (and longest-lasting) genre of the 90s. With a love for (now) old-school hip hop, classic soul and throwback r&b imprinted onto his brain and a knack for working a crowd passed down through DNA, there was only one thing to do: build a career at the point where those things intersect.
If you want it, you got it
Professionally DJing for seven years now, Davin has been working with Altared for nearly three. When a client hires us for musical entertainment and requests someone to keep the dance floor burning, we embark on a tried-and-true matchmaking process. We take into account their personality, their guests' musical tastes and the style of the event. We take care to place each client with a pro who can deliver exactly the experience they're looking for, and when what they want is for a DJ to bring the funk, that's where Davin comes in. He brings a wealth of musical styles to the table and can easily switch between genres to suit the room and the people in it, but if you want an undeniable mix that doesn't spare a single beat of the 808, this is your match. In fact, quite a few clients seek us out because they attended an event where Davin was on deck and decided they wanted him at their own big occasion, too.
This is how we do it
But what about just building a playlist of the songs you like and letting a laptop do the work instead of hiring a DJ? Isn't that cheaper and easier?
Davin explains: "If you're planning on building a custom list or hitting shuffle on your own collection, you may need up to six hours' worth of music, and there's no way to predict how your guests will react to each song." As any great event professional knows, some tunes have a great opening and then just sort of die after the first chorus, and the wrong mix can kill a room's energy in a heartbeat. Timing is important. With a professional on board, there's always someone paying attention to the sequence of events taking place in the venue, keeping tuned into the crowd's mood, and constantly adjusting the mix to fit.
As a bonus: if anything technical goes wrong — a mic dies in the middle of a toast or an in-house speaker won't stop popping during dinner — having a seasoned pro on hand is essential. It's a life-saver to have a problem solver nearby who can handle the issue (or hand you a new mic!) and let the event keep on flowing.
Don't believe me? Just watch
Davin says he can tell a lot about a person's expectations for an event simply by asking the question, "What do you NOT want us to play?" That simple query helps narrow the focus down to what the client likes personally, but also gives insight into what they're envisioning for the event. Just a few notes about genres, moods, or particular songs can give Davin nearly everything he needs to know about which lanes to stay in to give the host what they want. (When in doubt, he says, "Uptown Funk" by Mark Ronson and Bruno Mars is still getting crowds of all ages up on their feet a solid four years after it first hit the charts. "Not a lot of recent pop songs have that kind of staying power," he notes.)
As for his favorite part of the job: "Just the energy in the room," he says. "When you get a room going, there are these magical moments that can't even be quantified or qualified — moments you never forget. I get to make people's nights and be a part of their lives in a special and unique way. When everything comes together and the whole room is losing their minds in front of you, that's the best part."
To bring Davin (or any of our entertainment partners) on board for your next event, get in touch with Altared and let's get you into the groove.